YBN Hop Tips! August 2022
Dear YBN Hop Tips! Subscriber,
Have you seen our new issue? Tom Major does a thorough job of covering Breweriana - the hobby, or some would say, the obsession of collecting beer related items such as signs, labels, bottles, cans, coasters, etc. etc. etc.! Our Women of Beer column covers Lee Lord of Narragansett Brewery and we even have a few summer beer fest collages! Use the links at write to go to YBN to see the new issue!
Event Highlight!
• Saturday, 8/27 Brew at the Zoo,
Roger Williams Park, Providence, RI
It's been a hot summer of beer events in Rhode Island, and here comes Brew at the Zoo! Eighty plus local, regional and national brewers serving over 170 beers with live music by Niteflies and Farm Dog band, fascinating animal encounters and more. Get your tickets for for Rhode Island's largest outdoor beer festival by clicking below!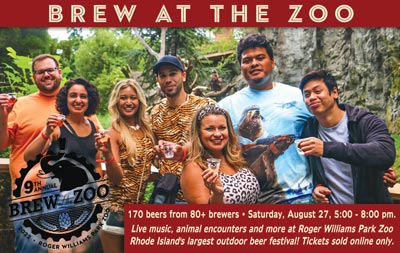 https://www.rwpzoo.org/brew-at-the-zoo

Also next week/weekend:
8/25
* D&D: Law & Chaos Beer Release, Daydreaming Brewery, Dover, NH
8/25-28
* 6th Anniversary Bash!, Bone Up Brewing, Everett, MA
8/27
* Munchie Madness, Branch & Blade Brewing, Keene, NH
* 8 Years of Beer, Black Hog Brewing, Oxford, CT
* Hops & Heart Brewery 44, Carver, Carver, MA
* Rock the Block, Redemption Rock Brewing, Worcester, MA
* 7th Birthday Bash, Great North Brewing, Manchester, NH
Brewers, Organizers:
Add Your Event!
Organizers, seems like things are really getting going again!
Please post your beer events to our on-line calendar here:
( http://www.yankeebrewnews.com/calendar/ybn_addevent.html )
Please follow the guidelines to maintain the "beer focus"
of the Hop Tips calendar.

We plan to send a September round-up prior to labor day!
Prost!
YBN
Hop Tips Email Management
Sign up for YBN HT if you are reading on the web!

Click here stop receiving YBN HT, if you want to...no problem!

View in browser, if you need to!

Forward to a beer loving friend!
This is the best way to do this, as it strips your info from the email.